IEEE ICMA 2017 Conference
Keynote Speech II
Invented the World's First Smart Desktop Robotic Arm
Peichao Liu
Chief Executive Officer of Dobot
E-mail:jerryliu@dobot.cc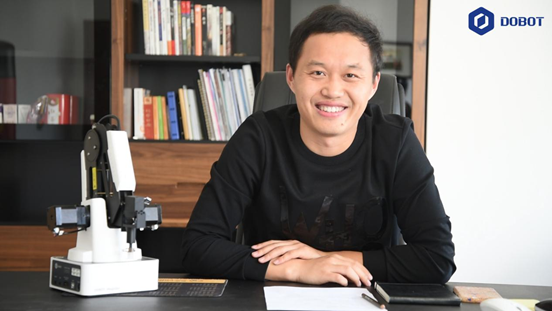 Abstract:
In the present market, robot arm is mainly applied in conventional manufacturing industry, such as mechanical manufacturing, automobile Industry, warship manufacturing and electric appliance manufacturing industry, etc. However, some repetitive and tedious work has to be done by labor, which is costly and poor precision. In the age of Industry 4.0, labor should be emancipated and be taken place by robot.
This talk refers to product creation process, corporate growth and futuristic visions of Yuejiang Tech and explores the long-term prospect for the future evolution of robot intelligence based on scientific research, computer programming and big data. Further research the application of desktop robot arm applied in K12 and STEAM education in China.
Peichao Liu is the Chief Executive Officer of Shenzhen Yuejiang Technology Co., Ltd (Yuejiang Tech). He received a Master Degree in Engineering from School of Mechanical Engineering Shandong University in 2014. He initially studied large conventional industrial machinery in Suzhou Institute of Biomedical Engineering and Technology Chinese Academy of Science. When he learned about some repetitive and tedious work had to be done by labor, which was costly and poor precision. He came up with an idea to create a desktop smart robot arm save, which can save labor and enhance productivity.
Up to now, Yuejiang has developed out four generations of Dobot series robot arm: Dobot V1.0, Dobot Magician, Dobot M1 and Dobot Rigit. The intelligence of Dobot robot arm embodies in usability and visual identity. With implanted opening API and 13 extensible interfaces, it can be further developed without any limitation.
What's more, combined with brain wave and myoelectricity, Dobot robot arm can conduct work as human's thought without any body movement. That's a further step in artificial intelligence, and can promote the development of Industry 4.0.
Shenzhen Yuejiang Technology Co., Ltd is a leading company in the field of smart desktop robotic arm, which is one of the first companies in the world brings the concept of smart desktop robotic arm. More than 70% of Yuejiang's staff are educated engineers from MIT and Harvard. It owns 100% core technologies and over 40 international patents. Yuejiang's long-term prospect is a high-tech provider and a right-hand assistant in everyone's daily life.